Start Here
Hello! I am so excited to have you in this writing class. We're going to spend the next 12 weeks reading and writing about Malcolm Gladwell's best-selling book, Outliers.
Along the way, we'll be discussing reading and writing strategies that will be applicable to high school- and college-level classes. You'll learn more about note taking, writing clear sentences, and developing your own style and voice.
Here's the general schedule of what you can expect to do each week, but there will be more detailed instructions in each section of the class.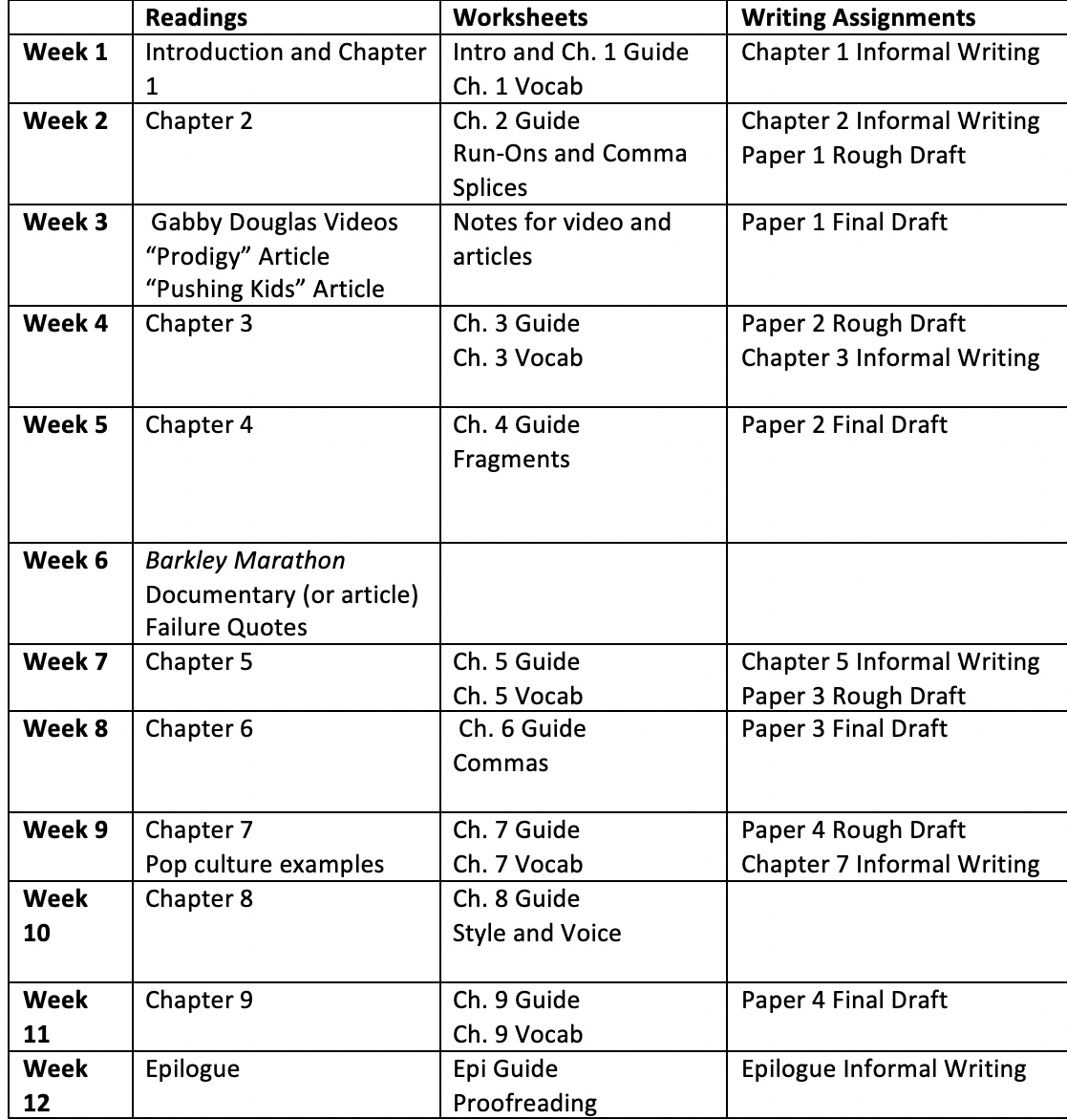 Here are some general tips for being successful in this class:
Plan to log on and work on the class at least 2-3 times a week. Trying to do the entire week's assignments in one sitting will likely lead to frustration, and your work won't be as good.
Don't stress out over quizzes. They're there to check how well you understand the material, but if you miss some questions, it's just a sign to take notes more carefully and use some strategies to make sure you're getting everything you need to out of the material.
Remember that rough drafts are just that—ROUGH! It's better to get something on the page than be frozen worried about making it perfect.
Writing works best when you are interested in what you have to say. Throughout the class, you have opportunities to choose topics or pick between different questions. Choose the ones that interest YOU the most.
Before you begin, you will want to make sure you have everything you need. Almost everything is included in this class, but you will need to have access to the following:
The book Outliers by Malcolm Gladwell (Used copies work just fine! It's a little harder to take notes, but you can also use a library copy if you need to.)
Access to a word processor (Microsoft Word, Pages, and Google Docs are all popular options)
Access to a way to open PDF files (Acrobat is a free option)
Headphones or speakers to listen to embedded videos
A note for parents/guardians/course facilitators: This class is designed to have someone giving feedback on written assignments. With each of these assignments, you will get a guide that provides a rubric and some advice on how to give the most useful and constructive feedback. There is a section at the bottom of the course that contains all of these documents.
Complete and Continue